CBC Parents Episodes are Coming Soon!
I just love you all so much. Thank you for being gentle with me as I have allocated pretty much all my editing time and energy to the CBC Parents Project this past month. You have been so patient and understanding about not seeing a regular Stump Kitchen Episode in a few weeks. BUT THAT GETS TO CHANGE NOW BECAUSE I'M DONE THE CBC EDITING!! I can't WAIT to get back to my Stump Kitchen release schedule, and fill you in with a few extra fun behind the scenes tidbits!
Working on the CBC Parents Video Project has been incredible. Before the end of March, 6 original episodes featuring some of the coolest kiddos in the city will be broadcast on the CBC Parents YouTube Channel and Facebook Page. Coda, Rosie, Ethan, Callie, and Sofia: these 5 were SUCH all stars, and were (as always) so much fun to work with! The footage was better than I ever could have hoped for, and the memories made were life-long.
CBC gave me a budget to be able to produce high quality videos (they were like, um, sorry you can't use your iPhone like you normally do...) so I was like OK! Sure thing! Having a budget meant I could hire my incredibly awesome friend and colleague Stephen Robinson to be my second Cameraperson, and help with lighting, sounds, and post-production. I gotta say, working with Stephen was like a dream come true. I learned TONNES from him, we laughed until we cried, and got so much done in a short amount of time. Stephen, you rock my world and I can't wait to work with you again!
Sofia named Stephen 'Cameraman Picture Boy' because from the kids' perspectives, his job consisted of filming and taking pictures! (believe me, he did WAY more than that!)
One of my favourite moments was the day we got to have Coda, Ethan and Callie here in my house all together for some group shots - they got to playing with each other as if they'd been friends forever! We had a 'kids zone' (my bedroom - ha!) that acted as a place they could play board games and chill with my partner Alison when they weren't on set. Only a few times did we hear the laughter wafting from behind the closed door and have to remind them to be 'as quite on set as possible given how much fun they were having!'
We filmed for 3 days in February, each episode taking about half a day to capture. The process was similar to a regular Stump Kitchen shoot, but we had to pause a lot more so Stephen could take some still pictures, and find new camera angels. The kids rolled with that like pros. Anther difference was the lighting and sound. We had really bright lights in our faces the while day AND had to wear LAV mic packs - and they kept falling our of our pockets! Eventually we got used to them but we sure were happy when we got to take them off :)
Ethan and I during our stump chats interview
We loved the fact we were both wearing sweat pants!
Rosie and I making edible playdough!
Can you see what we made???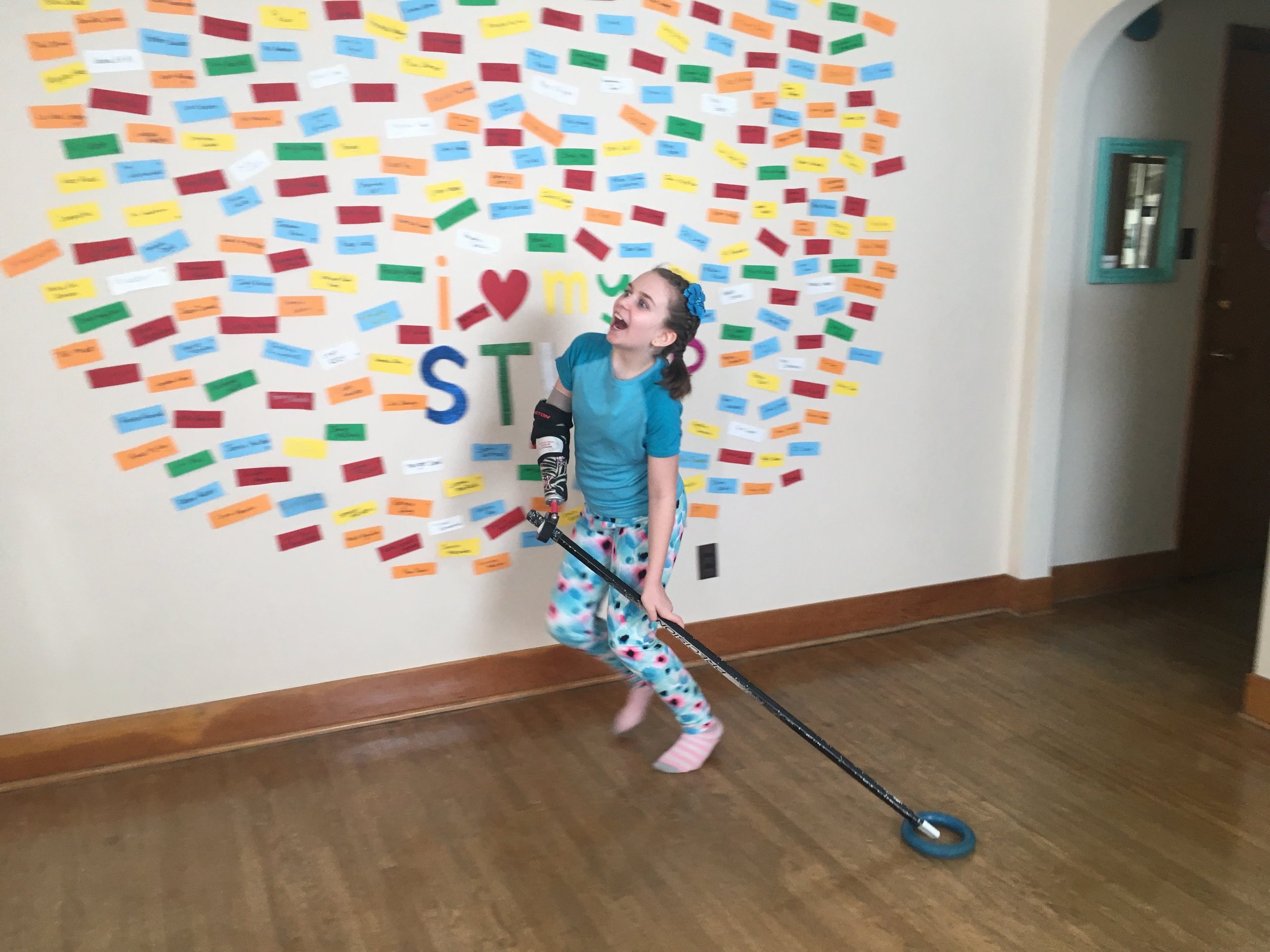 Callie showing off her ringette skills!
After Callie's Episode...
Chocolate pudding EVERYWHERE!!!
Coda and his speedy rubiks cube skills!
I got to get the DIRTIEST I think I have ever been in my life. it was amazing.
Celebrating limb difference is my jam!
I am so lucky and thankful to be doing Stump Kitchen as my life's work, and this CBC collab has been a dream come true!
The 6 cbc parents + stump kitchen episodes will be available at www.cbc.ca/parents before the end of March!
Share. Stump. Love.
Subscribe to Stump Kitchen today at www.youtube.com/stumpkitchen